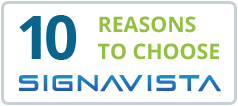 SignaVista has extensive experience in the media and entertainment space and digital signage is one of our core offerings
Signavista offers a one-stop solution to your digital signage needs; you don't have to liaise with multiple vendors
The cost to operate Signavista is extremely low, compared to the benefits it offers
Web 2.0 enabled browser based solution for content management and distribution; Signavista makes it easy for the operator to control media schedule across locations
Signavista allows you to change content at multiple locations from one remote authoring solution
Signavista displays can take the form of scrolling message boards, plasma monitors, and large projection screens, and emerging display types like organic LED.
Signavista is capable of reading data from external systems such as ERP, MIS or Databases
We are probably the only large scale providers of Digital Signage in an on-demand model; pay-as-you-go and scale slowly. At the same time, we enable your own network if you want to keep it in your control
Signavista can be implemented in a short time span; whether you are Digital Signage end user, a reseller or a content creator. Signavista can make things simple for all stake holders.
Choose Signavista; it works! This is a proven product.
Signavista is software solution for digital media distribution. Built on the latest commercially available technology, Signavista provides Media Distribution and Advertisement management on Digital Displays that can be used for Dynamic Digital Signage, Electronic Billboards, OOH (Out-of-Home) Digital Advertising, Corporate Communications, Captive Audience and Information Kiosks.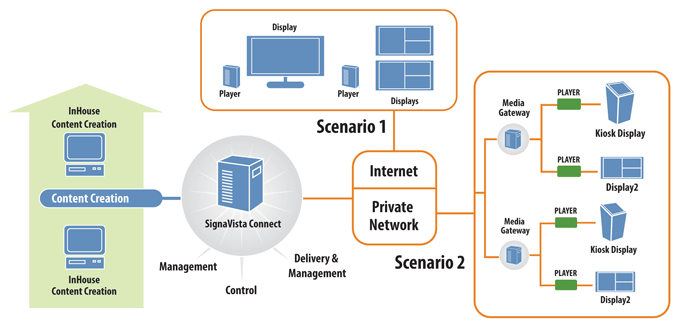 Features
Scheduling Flexibility: With increased storage, Media owners now have tremendous scheduling flexibility, not having to bother with the delivery of media every time they want to schedule it.
Ease of Operation: This user friendly system has a latest Web 2.0 browser based interface which allows the operators do a location specific scheduling of their media along with individual display units from anywhere, anytime.
High Quality Media: High definition images and branding provides a far superior user impact.
Remote System Management: Operators have easy access to exhibition history at display sites with terminals linked to the central servers.
Run Logs and Telecast Certificates: Detailed telecast Certificates for content played on the system along with logs of media run.
Advantages
End User Experience
Embellishes the decor and brings the atmosphere to life and improves the ambience
Provides infotainment opportunity to customer/employees / guests.
Reduces perceived waiting time at utility locations
Increases sales by providing sales pitch opportunity at point of sale
The Value for Money Option
Digital Displays eliminates the need to print and distribute static signs every time a message or campaign is changed.
Savings in printing costs and processing time.
Digital Signage Advertising is more cost-efficient (lower CPM) than most newspapers and magazines, while having a higher targeting ability and impact.
Digital Displays can be offered to more "real estate" than ever possible with static media with less clutter and waste
Digital signage can be a platform for more than one marketing message, and result in higher brand recall.
The Audio Visual Impact
Compared to billboards or glow signs, Signavista digital displays delivers lot more value, making video and graphics available for the promoter to exploit creatively.
Full-motion Digital Signage media have more impact.
Viewers perceive TV and Radio media as irritating interruptions rather than useful info. In contrast, shoppers regard Digital Signage media as timely, helpful and relevant.
Newspaper media are usually viewed once a day at the most, while Digital Signage delivers more frequency.
Attention grabbing ability provides an opportunity to influence buying decisions thereby increasing sales
Digital Signage audiences are 'ready to act', while all other media audiences are passive 'potential consumers'. Digital Signage can deliver exponentially more ad spots occupying the same space.
Operational Flexibility
Signavista Signage is flexible; they can be customized and aimed at smaller target audiences within a bigger audience.
ue to its networking, a Signavista Signage System allows you to change content at multiple locations from one remote authoring station.
Changes can be made in messages quickly on displays in one venue, or on any screen anywhere in the world via the Internet/private IP network.
Signavista Signage content can be adapted depending on regional or local interests, demographics and buying patterns. Operators have easy access to exhibition history at display sites with terminals linked to the central servers.
Application
Signavista signage system is operable in almost any field of operations with the same network being used to service diverse industries, target audiences, locations etc.
Malls / Retail: In the retail world, a Signavista Signage Systems reinforces brand identity, motivates customers and has a quicker and more efficient way of moving products. Signavista Signage provide avenue for cross marketing, promotions, event information, public information
Railways, Airports & Bus Transit Points: Information Signage is best used in Transport segment. Passenger Information, Location Facilities, Flight / Train / But Details, Connectivity Information, Passenger List, Information Kiosks etc can be displayed on strategically located displays. They form fertile ground for an eager and captive audience is found in these high end destinations with a high footfall teamed with waiting periods.
Banks, Finance and Insurance: Signavista fits well for Financial Services. Displays in Banks, ATM, Investment Offices, Collection Centers and Offices can be used to for Branding, Rates, Interests, Token Number, Financial News and Customer Information.
Telecom and Utility: With large number of Retail shops, Telecom and Utility companies could use the Retail place to promote Tariffs, Promotions, Customer Information, Contact Information and Corporate Branding
Government: Information on Displays at Government Offices, Community Centers, Public Areas. Regional / National Emergency Services, Important Links, Contact Numbers, Integrate Surveillance Systems. Earn Revenues by integrating advertisement. Street / Area / Building Maps.
Corporate Communication: Signavista Signage can be used in corporate for Employee Information, Meeting Schedule Display, Corporate Promotions, HR Activities, Achievements and Awards
Entertainment Venues: Animated messages create an instant, profound interest and cinema halls and casinos would benefit greatly with Digital Signage, coupled with advertising, to highlight features or show upcoming attractions.
Hospitality: Patrons of fast food outlets, cafes and other entertainment zones looking to while away their time can be pleasantly engaged by promotional campaigns launched by Digital Signage.
Bars, Pubs and Lounges: Unutilized advertising budgets of liquor companies can now be used to launch promotional features at bars and other liquor selling destinations.
Trade Shows: Unique advertising opportunities are available for both advertisers and exhibitors at Trade shows, exhibitions & fairs