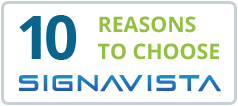 SignaVista has extensive experience in the media and entertainment space and digital signage is one of our core offerings
Signavista offers a one-stop solution to your digital signage needs; you don't have to liaise with multiple vendors
The cost to operate Signavista is extremely low, compared to the benefits it offers
Web 2.0 enabled browser based solution for content management and distribution; Signavista makes it easy for the operator to control media schedule across locations
Signavista allows you to change content at multiple locations from one remote authoring solution
Signavista displays can take the form of scrolling message boards, plasma monitors, and large projection screens, and emerging display types like organic LED.
Signavista is capable of reading data from external systems such as ERP, MIS or Databases
We are probably the only large scale providers of Digital Signage in an on-demand model; pay-as-you-go and scale slowly. At the same time, we enable your own network if you want to keep it in your control
Signavista can be implemented in a short time span; whether you are Digital Signage end user, a reseller or a content creator. Signavista can make things simple for all stake holders.
Choose Signavista; it works! This is a proven product.
Join the SignaVista partnership program and be a part of a growing business vertical which currently untapped and offers great potential. SignaVista and its parent company Valuable Group has been a leader in Digital Content Distribution with successful Digital Distribution businesses such as UFO Moviez and moviebeam. Using these same technology expertises in the digital signage industry SignaVista offers the most innovative, stable, extensible, and scalable technology platforms.
We offer you and opportunity to maximize sales and generate additional revenues by becoming a SignaVista Sales Partner.
For more information on this please contact us at info@signavista.com